So, hello there! As you see I've given the site a bit of a make-over today! There's now a "Did You Know?" section in the sidebar on the right, just underneath the Twitter feed! And obviously a funky new Summery-theme for you all to love (I got sick of the blue-it was very wintery and dark and depressing!).
Anyway, on with todays post! This is about my (several) "WOOPS!" moments that I've had in the past few weeks.
Woops Number 1!
I spend
way
too much money. As in, this is money that I want to spend on the important things-like food! And alcohol! And going out with friend and what not... But noooooo, I've been spending around £15 a week on Nail Polish! (Curse you, Superdrug and your 3 for 2 Barry M's!). All I can say is my bank balance is
not
appreciating it one little bit, even if my nails are seriously loving the amount of attention and pampering they've been getting here! *stares at empty savings account* (sniff, sniff)
In an example, I'd like to show you what I've bought in a period of 7 days...
Saturday 4th May:
On this day, I bought
six,
yes, SIX, nail polishes... In my defence, I went just over £20 on them I think, so it's not that bad, right? (Or so I keep telling myself). I think it was a pretty good bargain, until I dotted some of them over the nail polish I already had on... (You'll see this in Woops Number 2!) Anyway, here's what I bought!
Left to right:
Sally Hansen Diamond Strength Jewel Overcoat in "Let's Dance" (8); La Femme Beauty Dark Blue Glitter; W7 "Green Dazzle"; Revlon Top Speed Fast Dry Nail Enamel in "Misteltoe" (350); Barry M Gelly Hi-Shine Nail Paint in "Blueberry"; Revlon Moon-Candy in "Meteor"
I haven't actually got round to trying all these yet! So many nail polish, so little time! Though I am totally extremely excited to try Revlon's Moon Candy! And the Galactic colour is most
definitely
on my list to purchase next. It looks so pretty!
I experimented with Blueberry and Sally Hansen's Let's Dance, though, and I must say-I'm impressed! The colours are so precise and they both went on like a dream!
Blue-tiful!
Wednesday 8th May:
Wednesday was a
fairly
sensible day, as I managed to leave Superdrug with only things that were on my list of must-buy's! Yay! So I bought
Rimmel Lasting Finish "Sunshine" (280)
and
Andrea Fulerton Nail Boutique Dot & Flick Nail Art in Black.
(*cough* and 2 Rimmel Lipsticks, which I totally adore!)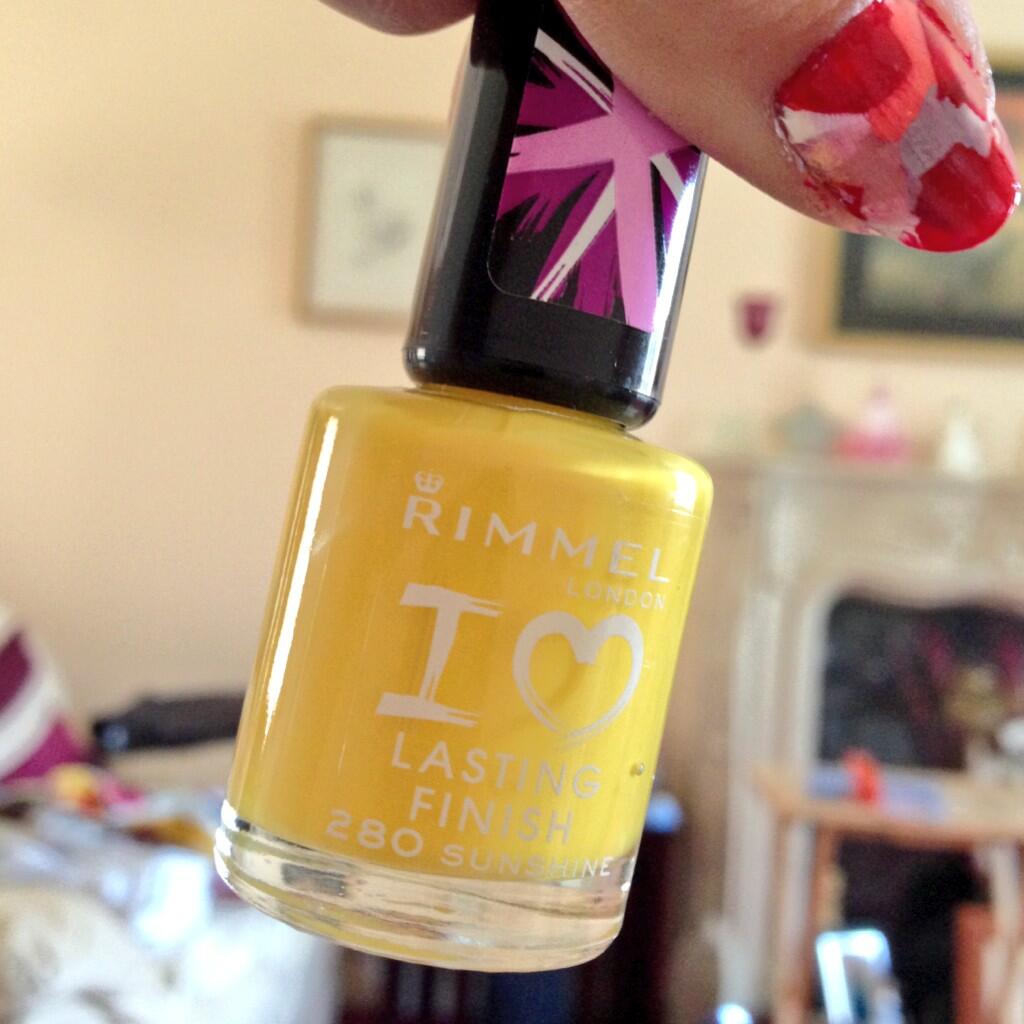 So far, so good, the Dot & Flick is really good, giving precise lines as you want them to be drawn! And the yellow is just that perfect shade for summer!
Friday 10th May:
Well then, what can I say... Friday was
not
a good day for the bank balance... (As in, my Mam's bank balance! Rachel: 1, Mother: 0). We were out shopping in Debenhams, and they have a Nails Inc stand, so I was right there as soon I spotted it (obviously), and saw this beautiful green polish called
"Queen Victoria Street" (
Nails Inc's Trend Shade for this Year/Season) and knew that I had to have it. The tricky part came next as I spotted that it was included in the "
Bling it On-Emerald
" kit, which also looked so amazing. And then I spotted the holographic polish too, and was just amazed. Then I remembered that I wanted a matte top coat really badly, and all of a sudden I was at the checkout! Uh oh! "We" did however, get a free gift! (Yay, free gift!) which must have been worth around £24 as it contained 2 full-sized polishes! Anyway, here's what I ended up buying, which came to a total of £42 (including the free-gift)
Left to Right:
Westminister Bridge Matte Top Coat; Bling it On Emerald; Westbourne Park Hologram Polish; Kensington Mall (free gift); Chalk Farm Road (free gift)
Queen Victoria Street with Hologram Accent Nail
So yeah, I really should not buy any more nail polish anytime soon, but it's just so hard to walk into somewhere, see something you love and
not
buy it! I need to work on my will power!
Woops Number 2!
You know how most places have testers? Yeah, use them. Even if they don't have testers, go ahead and unscrew that cap of the nail polish and test it on your nail! Go on, do it! Here's why you should:
1) Most colours look completely different on your actual nail than they do actually in the bottle. It's devastating when this happens-I'm pretty sure I've shed a tear about this before!
2) Some polishes quite simply suck. Let me expand on this-some of them have really bad brushes or formulas that leave streaks or simply do not paint well. And then some of them are so bad, and potentially quite scary, that they
melt away your other polish
. Yes, you read that right. One of my purchases from the Saturday- the
W7 Green Dazzle.
I came home, and as I do, started to test the nail polishes on my nails and some fake nails. This one happened to be over a nail that I'd already painted a couple of nights before because since it was a glitter, I'd decided it didn't matter. When I started to put the polish on, all was fine, it was looking like it was going to be great so I went to start on another colour. Then I noticed that it had melted away the other polish on my nail. Just to check, I even tried it on a false nail I'd pre-painted, and it had the same effect. So now, I'm just very reluctant to use it. Remember that phrase, "Try before you buy"? Yeah, stick with that.
Woops Number 3
This is a clumsy "woops!". Spilling nail polish. It's such a disaster when it happens, and the chances are you already have wet nails you don't want to smudge by trying to pick the bottle back up really quickly. I've started being so much more careful with where I paint my nails now after getting polish on my pillow (woops...!).
And I think that's it from me! Well it's past midnight, so I'm going to head off to sleep before another revision-packed day tomorrow.
If any of you have exams, you should read my friend's
revision tips!
And Good Luck, too!
If you would like me to review any of the products mentioned above, just write a comment, tweet me @Nail_Parade or drop me an email: rachelastar96@gmail.com
Please don't forget to subscribe and follow me on twitter, as well as sharing this blog with all of your friends! Thanks!
xxx