Welcome to the Wail! It's Wednesday, (wow, so many W's already), and you know what that means- it's time for a nail post! *cue cheering*
Quick warning here that I genuinely couldn't decide which pictures to scrap for this post, so I put them all in. I apologise in advance to your internet providers and anyone else trying to use the internet at the same time!
Today I'm going to share four of my newest polishes to my collection... These four are, as you may have guessed, from Barry M's new Aquarium collection! I am genuinely in love with the polishes- they're so beautiful!
I mean come on.. Just look at them.... They make me feel so happy inside!
Let's start with the blue one first of all then!
I think this one is my favourite... But then again, I'm probably going to say that for the other's too.
As you can see here, it's different shades of blue/turquoise depending on where the light hits it!
And turns slightly more teal-coloured when you use the flash!
I'm going to let the pictures speak for themselves here though, cause I really can't think of anything more to say about them!
Arabian
is the green-coloured metallic, and it's a very fitting name in my eyes, as it genuinely reminds me of these little creatures: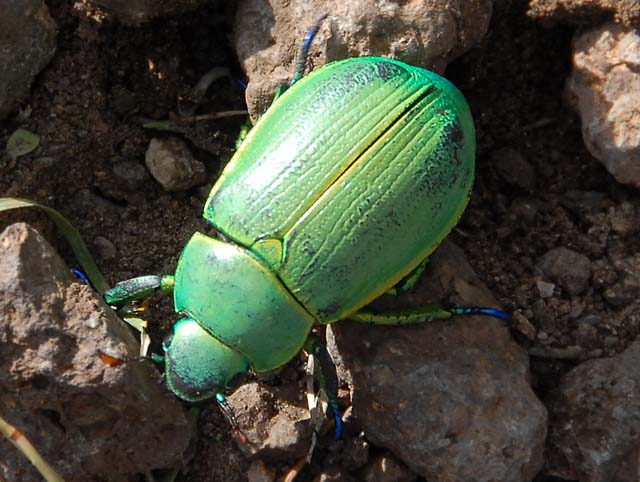 Green Scarab Beetle
And those little beetles remind me of Aladdin, and 'Arabian Nights' :3
Anyway, let me show you the amazing green and golden metallic-ness of this polish!
This brings me to possibly the Summery-est polish of the collection:
Mediterranean!
It just makes me want to go on holiday and see what it looks like under the water in the swimming pool... Is that weird...? Probably is.
Anyway! This shade brings us some more golden tones, though they are quite orangey too! With, of course, a little hint of a pink shade- kind of like sunset colours! And it is once again... one of my favourites... But shh! I can have more than one, right?
(I'd also like to quickly apologise for the state of this swatch, I literally had about 2 minutes to do it in before swapping colour so I didn't clean it up before snapping!)
I also can't help but sing a little Duran Duran when painting this colour on my nails! Such fun!
But here are the pictures anyway so you can see what it looks like without too much going on!
(Number of coats from left to right is 1 to 5- 1 coat on the thumb to 5 on the pinkie)
I realised earlier that the glitters are probably meant to coincide with the metallics in the set! So here is it on Arabian, and it looks awesome, if I do say so!
The name is pretty fitting too, as it kinda looks like scales that could be from a Mermaid's tail!
So there we have it! That's four of the polishes from Barry M's Aquarium Collection! The other two polishes in the collection are a bronze-gold metallic and a golden flake-glitter. They just make me wish for Summer and want to get out of England and into some sunshine!
Each of these summery shades can be found at Boots, Superdrug and BarryM.com (to name a few) for £3.99 each.
(Bargain!)
Hope you enjoyed the post, don't forget to leave a comment on your thoughts/feedback, and I shall see you on Friday for the Fridail post!
Til then!
~Rachel