Hey there!
So welcome to Wednesday's nail post! (Yes, it's Thursday, but let's not dwell on that too much...)
Today I have a new polish for you that was released about 2 weeks ago I think, by our good friends Models Own!
Models Own generally have amazing polishes with amazing formulas and cool effects and these were definitely no exception!
There are 5 shades in this collection, but I've only been able to grab one so far unfortunately...
The shades are as follows:
Flip Flop- a neon lime green
Bikini- a neon lemon yellow
Shades- a slightly coral-toned neon pink
Sun Hat- a neon 'barbie' pink
And finally, Beach Bag- a neon orange/peach tone, which I bring to you today!
It really is a beautiful colour, above photographed in day-light (but indoors), you can see that it looks slightly pastel in direct light but gets brighter as it gets some shade!
(To prove that a little more, above are some pictures taken with the flash on)
A little more about these polishes then! Beach Bag dries to a semi-matte finish and the whole collection are made to "enhance and compliment your natural tan", which means I have a question for you all to answer...
"Does this polish make me look tanned?"
(Leave your thoughts/opinions in the comments below!)
I had loads of comments about how bright it was when I was wearing this polish, it made my nails feel loved!
Application wise, this polish gets a 'meh' from me. It wasn't brilliant but it also wasn't terrible. I chose to paint it over the top of a white base and it really only took one coat to cover completely, but I did two anyway to see if it boosted the colour anymore (I'd say it did a little bit, but not loads)
But! This polish was pretty thick in comparison to any other Models Own polishes I own, so it was a little hard to get it nice and even without it dragging too much. When I was painting though, I noticed it would go streaky for a bit and then even itself out very nicely, so you don't need to worry about it too much :)
I have one last picture for you, and it's a little messy but it really captures the essence of the polish...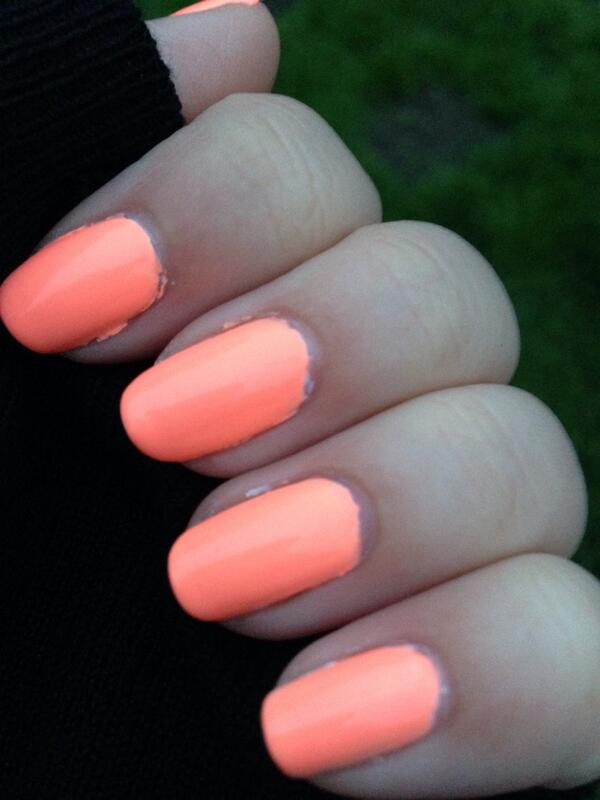 This picture was taken outside in natural light around 8.30pm (so getting dark but not pitch black) and look at it! It's practically glowing! THIS is why I love this polish so much, and why you should too. Go and put it on your "To Buy for Summer" list now- for only £5 from selected Boots/Superdrug Stores, or
ModelsOwnIt.com
Thanks for reading! :) (And sorry that it's a day late!)
O7
~Rachel
Coming Up This Week...
Friday: Fridail: Revlon Sun Candy- Sun Shower
Monday: A Blogger's Bookshelf: Allegiant Part 2!
Wednesday: Revlon Sun Candy- Shimmering Sunset